N. Va. Academy of Clinical Psychologists Quarterly Journal Spring, 2009
Pete Bloom, Ph.D.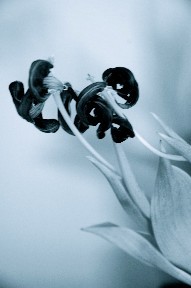 Discovering Beauty
I was given a pot of almost-blooming purple tulips for my birthday three weeks ago. I put them on a little table in my office. They blossomed and were glorious to behold for a week or so. Then, the petals began to wilt and each day wilted more, but, amazing to me, they hung onto their stems and developed a most special beauty, which I loved. I'd look at them closely and was drawn to the changing colors of their curling fragile petals.
They reminded me of my mother who is 94, my father who died 5 years ago when he was approaching 90, my mother-in-law who is 97 and my father-in-law who is 100. Despite physical and mental "wilting", they not only have hung on with great resilience much longer than most expect, but when you relax and look closely, you perceive and are moved by their unique quiet beauty.
Years ago, I became aware that I often over-looked beauty in everyday life, especially if it seemed ordinary, or, if I wasn't looking for it. Since then, I have increasingly paused and looked at what is around me and sought to discover the beauty in anything anywhere, whether it be familiar, off-putting, or something else. I have recognized a "magical" quality, when I look at something or someone with "fresh eyes", rather than through "judgmental or stressed eyes" or eyes which are not seeing at all, as I move through my day and it's to-do list.
I'm not suggesting we romanticize older people, with "Norman Rockwell eyes", or deny our personal history with them. I am suggesting an option which I have found to be meaningful. Generally in our culture, with some exceptions, we do not individualize older people, nor spend much time with them, unless we feel a responsibility to do so. When we have aging parents, and are in caregiving role, it is common to have sadness, uncertainty, frustration and stress with the many evolving situations and possibly, the presence of a parent's difficult personality traits and behaviors, and/or our own. When we spend time with them, unfortunately, we often do not look closely or openly at them, nor open ourselves to their souls in a fresh and focused way. Our interactions can become "routinized."
Recently, my mother had a live-in aide who I came to regard as an answer to my prayers for a "Mother Teresa." Matilda was from Ghana and told me that she was one of sixteen children, most of whom were still in her village there, caring for her elderly mother. She said that she regarded her work here as a calling to care for others as she would care for her own mother. Matilda had lots of wisdom and a great touch with my mother, who, in episodes of disinhibition, could be nasty with her. One morning, I received a call from the security guard at the retirement home telling me that my mother had called them ranting about Matilda staying in her apartment and had ordered her out. When I arrived, my mother was in the lobby in her bathrobe, in quite a state. Then, along came Matilda with a gorgeous breakfast on a tray. We found a place to sit, but my mother was ignoring Matilda. Hoping to discover a way for my mother to again see the kindness of Matilda, I told her about Matilda's heartfelt desire to care for people here as she would care for her own mother, if she could. Tears came to my mother's eyes. She looked closely at Matilda and then began to insist that Matilda eat the breakfast, as only a Jewish mother could.
I am fortunate to have had the opportunity to get to know many "elders" in my personal life and in my work life, as psychotherapy and as hospice patients. I also am most fortunate to have parents and parent-in-laws who have lived a long time. My mother recently moved to a nearby assisted living home's dementia program. My father lived in the same program, when my mother could no longer care for him. My mother-in-law, who has significant dementia, is cared for by my father-in-law in a nearby retirement home. My father-in-law, who was born in Norway and came to the U.S.A. when he was 19, in the midst of the Great Depression, is a Viking mensch in heart and spirit.
Though assisting our parents has often been extremely stressful, with new challenges arising regularly, when I slow down and remind myself to look closely, with my eyes and my heart, I see and feel their beauty.
When I sat with my father and noticed that I was grieving his many losses, to aging and Alzheimer's Disease and found myself wondering about the "quality of his life", I would often decide to focus, instead, on being present with him. I would look closely at his features, his beautiful face and his hands. And I would go where he wanted to go – finding animals in the clouds, noticing the beautifully colored flowers around us, guessing how many slats were in the picket fence in front us, singing together his favorite tunes, often Irish ones, for he reveled in his Irish roots. On St. Patrick's Day, the day before he died, he was not very responsive as he lay in his bed, eyes closed. Irish tunes played on a cd player.
Although it may have been my imagination, I believe his toes were dancing to the music. He loved to dance.
When I asked my 4 year old grandson Elio what he was going to do with a picture he was drawing, he said, "It's just for fun PaPete." Attending to simple beauty is like that, it matters just because it is such a special thing to do.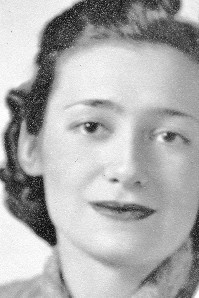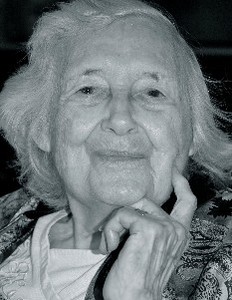 my mother, age 24, on her wedding day, and on her 94th birthday